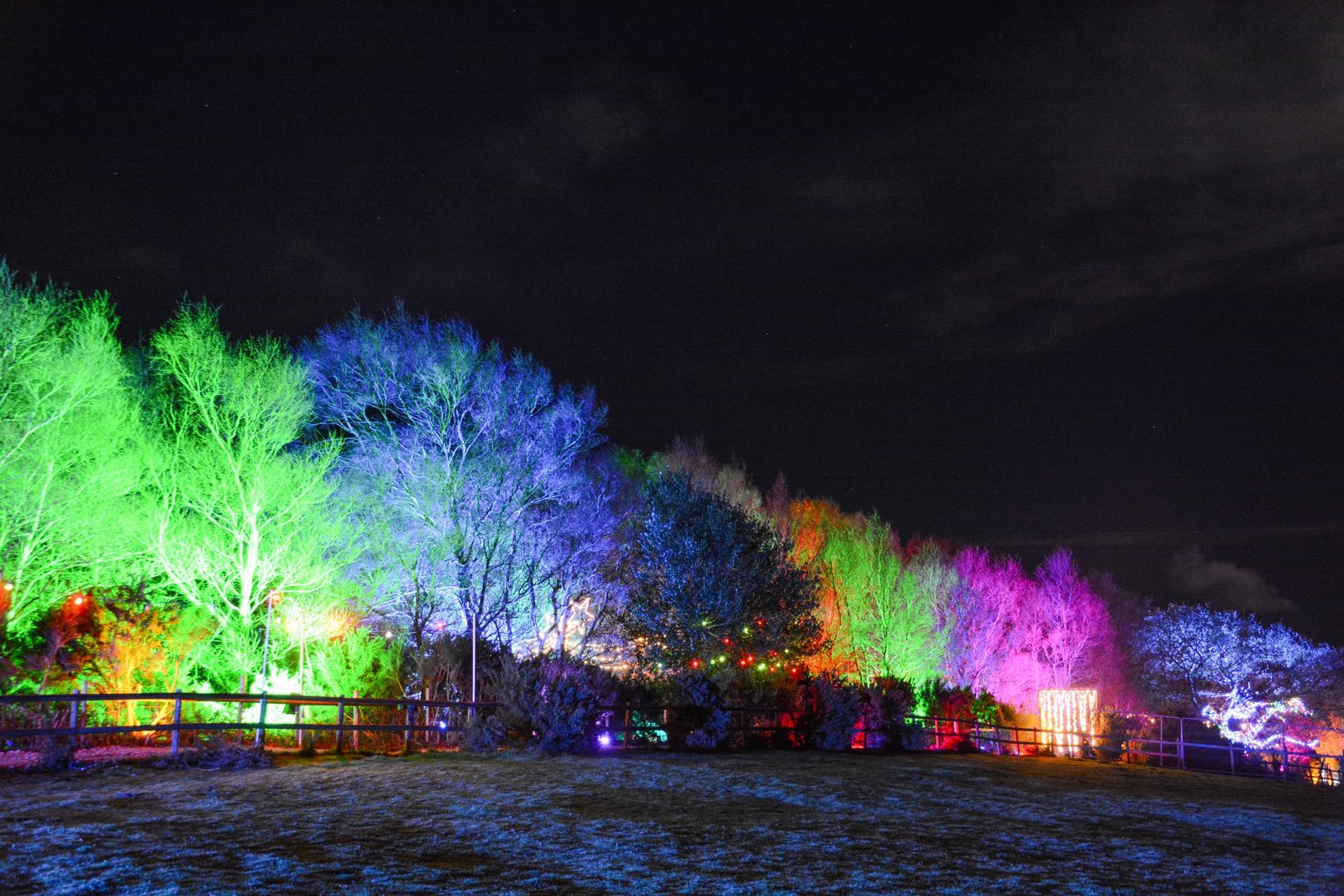 4pm – 10pm Tuesday to Sunday
From 21st November 2020 until 2nd January 2021
Adults – £10.00, Children 3 years & over – £5.00, Under 3s – free
Our Christmas Lights & Reindeer Experience is suitable for all ages and a perfect way to enjoy the festive season under the stars with your family.
Enter our magical illuminated 600m walk through a glittering archway, where you will see trees wrapped in light. Gaze up at the twinkling tree tops and be entertained by dancing light variations shining all around.
Enjoy a varied display of colours and sparkling lights as you head into an enchanted wood, step through our tunnel of light, and watch out for other surprises along the way. Don't forget to listen too!
As part of this experience, you'll also get to meet our friendly reindeer Rudolph and Prancer.
We will have a range of festive food and drink available including mulled wine & Hot chocolate.
Book your individual arrival time below (this event is ticketed with restricted numbers for your safety).

FAQs
Where is Nutley Farm?
Nutley farm is between Crossways and Winfrith Newburgh (postcode DT2 8DT). Please use the postcode and follow the signage. We are located in a rural area on a single carriageway lane so please take care and watch out for the cattle that roam the heath.
How can I contact you?
Please call us on 01305 851841 or email Christmas@nutleyfarm.co.uk. Happy to help with any enquiries or questions you may have.
What should I wear?
Our Christmas experience takes place outside on a purpose-built path. Therefore sturdy outside footwear such as walking boots or wellington boots will be required with suitable outdoor clothing.
How long is the Christmas walk?
The walk is approximately 600 metres long.
Are there toilets?
We have toilets located near the refreshment area close to the car park.
Is the walk outside?
The walk is all outside and lighting may be low level in some areas, so we do suggest you bring a torch in case of an emergency. Please make sure you have appropriate footwear and clothing.
What time does the Illuminated walk end?
All customers must leave the car park by 10.00pm
Can I bring my dog?
Sorry but we would appreciate it if you could not bring dogs to this event please.
What provisions do you have for disabled guests?
The Christmas lights experience has been set up to be as accessible as possible within the contexts of the heath and farmland that the event is taking place on. The path is gravel with some small hilly sections.
Can I purchase food and drink on site?
Yes, you will be able to purchase food and drinks from the refreshment marquee located near the car park. We would appreciate you paying by card for all payments please.
Where can I park my car?
Car parking is located on our horse exercise arena which is composed of small rubber pieces. The surface is fine to drive on, but we ask that care is taken and that speed is reduced to 5mph.
What will happen if the weather is bad? Will the walk be cancelled?
Our Christmas Lights experience is an outdoor event. If the weather presents a hazard and risk to safety, any decision to cancel the event will be made by 1pm. You will be contacted by text message and email so it is essential that when booking we have all your contact details.
If we must cancel, we will inform you of the re-booking process as soon as possible. We advise that you check our facebook page for all the latest information and before travelling to us.
If I am unable to attend on a different day, can I get a refund?
If the Christmas experience is cancelled in line with our cancellation policy and ticket holders are not able to attend an alternative night, then a refund will be considered. The transaction fee is not refundable.
When will I be able to see the reindeer?
When you have finished the walk, you will be able to access the barn and meet the reindeer where you will also see Santa's sleigh.
Can I feed the reindeer?
Yes, you will be able to purchase reindeer food from our refreshments area.
Can we see Father Christmas?
Unfortunately, all slots to see Father Christmas are sold out.